MyBookie App
The Mybookie app is now available for all Smartphones. No matter whether you have an Android device, iPhone, iPad, Windows mobile, Blackberry or other, you can now place wagers on your favourite sports events from the palm of your hands. Available throughout America, the Mybookie app has a superb looking interface and offers you plenty of value for your loyalty. Check out our full review below.
Mybookie app bonuses
To be able to wager on the Mybookie app, you will first need to register for an account. As with many online bookies these days, Mybookie offers you a new customer reward. This reward entitles you to a 50% matched first deposit bonus up to the value of $1000.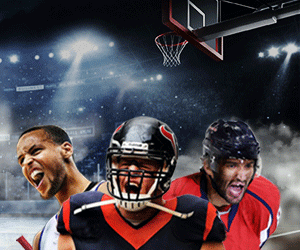 Terms & Conditions apply.
So no matter what your budget, you should be able to get a decent amount of benefit from this offer. This helps boost your initial bankroll which can then be used on the Mybookie app as you see fit. Explore new markets or stick to what you know, the choice is yours. There's also a 100% casino sign-up bonus available as well. This gives you up to $300 free in to your Mybookie account.
Sign up from the link below and make sure the promotional code field is filled with the code 50MYB to qualify.
Registration process – You can register your account quickly by following the simple steps provided on the image, which can be located directly below the registration button below. Get started by tapping on the button.
Mybookie app review
The Mybookie app is quite tricky to locate, as it is not in the usual app stores where you usually find them. The app is internet-based meaning you have to visit the mobile optimised site to access it. This can then be saved as an application logo on your phone or tablet. You can access the Mybookie app by tapping on the button below from your mobile device. For details on how to then create your app logo on your mobile devices, cointinue to read on down this page.
Mybookie Android app
You can get to the Mybookie app from the button directly above. There is no APK file to download or install as the app is internet based. From the link above you will find a mobile optimised web experience for you all your betting needs. Once you have landed on the home page page of the Mybookie web optimised site, add it to your Android phone or tablet's home screen from within the browser options. This will then create the MyBookie Android app logo on the front screen of your device. Now you can visit the Mybookie Android app with ease time and time again.
You also have the option of adding the app as quick access link, so it is accessible from the front screen of your mobile browser. The third option is to simply save it as a bookmark in your mobile browser. With a mobile based app, you have more access choice and more discretion meaning you don't have to have the logo flashing for everyone to see if you prefer not to.
The Mybookie Android app is one of the sharpest looking sports apps currently available throughout America. All images and graphics used are high resolution, making the information displayed clear and attractive.  Check out how it looks from the images below.
Mybookie iPhone app
The Mybookie iPhone app and Mybookie iPad app can both be created by accessing the Mybookie mobile website and then selecting the Safari menu button to open up a list of options. This button is represented by a Square with an upward arrow in the centre of it. Once you have selected this you should see the 'add to home screen option. This also has the symbol of a square with rounded edges with a + symbol in the center of it.
If you would like a little more discretion from the Mybookie app, but still want easy access you also have the option of adding the mobile optimised site as a favourite or bookmark. This way it will not be immediately obvious if someone else was to get hold of your device, yet still accessible through quick links.
The Mybookie app being web-based is not a bad thing. There's nothing to install initially, saving you a little time, as well as precious internal memory space on your phone or tablet. You get a more stable experience as well as a more consistent one across all operating systems. It's very easy to start wagering on one device and finish off where you started on another.
Once you have registered and claimed your new customer bonus, you will find that more offers await you. By registering you are immediately entered in to the MVP status of the loyalty program. The more you use the Mybookie app, the better your status and the bigger the rewards. Get exclusive gifts on your birthday, Unique promotions, cash back and much much more. Keep visiting the Mybookie app on a regular basis, if for nothing else, to see if there is a current promotion you could be taking advantage of.
Mybookie app features
The Mybookie app is one of the nicest designed betting apps we have reviewed. All the information presented is crystal clear. The layout means finding where you want to be and placing a bet are both very easy indeed.
The app has a menu button located in the top left of the page the separates everything out nicely. The racing section is nicely segregated so it is easy to find and use for the hard-core horse racing fans. This is also a blessing for football/baseball/basketball fans as this makes the main sports book less cluttered.
All bonuses available to you are nicely tucked in to their own category and full banking options are at your disposal straight from the app. Deposit in to your account and withdraw with no problems at all.  The customer service is also second to none with a live chat system on hand in case you get stuck with anything.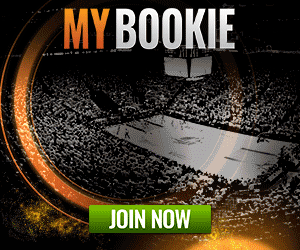 All of your main options are available from the menu button located in the top left of the screen (represented by three horizontal lines)  From here you have numerous options.
Sportsbook – Go straight to the action where you can view live  and future odds on all of your favourite sports
Casino – A dedicated section where you can entertain yourself with all of the classic casino pastimes, as well as a few new quirky ones.
Racebook – A dedicated horse racing section, separated for your convenience. If you don't like horse racing you will find the sportsbook less cluttered because of this. If you are a big fan you have the option of finding the races you are interested in faster.
Banking – control your deposits and withdrawals straight from the Mybookie Android app.
Loyalty – Get involved with the Loyalty program for a special birthday gift, Bookie points, Free payouts, Cash back, Game seats and much much more.
Bonuses – All special promotions applicable to you can be found easily in this section. Be sure to check here frequently to make sure you are getting the most value from your Mybookie membership.
Blog – Get all the latest up-to date sports news with frequently updated stories as they happen across the globe.
Betting guide – Another information feed, providing handy hints and tips from betting experts. Perfect for beginners and those looking to stray in to unfamiliar sports or markets.
Help – A 24 hour support section, which also has the feature of live chat. So if you can't find your answer from the extensive online help catalogue, you can get in touch with a real person there and then to assist you.
You can check out how the app looks, the menu system as well as how the casino section performs all from the app screenshots below.
After exploring the app for some time, it's fair to say we found it a very enjoyable experience. The features are great, the design is very appealing and navigation makes perfect logical sense. The markets available aren't that extensive, which limits choice, but makes it a lot easier to use and get along with. After all it is designed to provide wagering opportunities whilst you are out and about on the move. Our recommendation would be to install the Mybookie app today, claim your new customer bonus and give it a try.
For all the latest news and promotions on all the very best betting apps available in your region, follow us on Twitter. We love to share any bit of info we get our hands on and also like to hear your feedback or thoughts on your favourite betting apps. Give us a follow at @bettingappscom today and let us know what you think of the Mybookie app. You can view all of our best rated apps as well on our best betting apps page.